Product Offering
Foreign Exchange
REDI Trader®
Access our FX electronic offering via REDI Trader.
Trade Blotter
View executed trade details for an individual user or for the entire team and search for historical data
Average trade tickets with same cross, direction and tenor
Export trade details to excel or copy to a clipboard
Allocate and roll trades post execution. Save different templates for quick allocation
Market Analytics
Delivers real-time Goldman Sachs research and commentary as well as external market news sources in an easy-to-follow format. Track the latest releases as they hit Goldman360 and stay in touch with Goldman Sachs' developing market insight
View moving averages, technical levels, highs, lows, current price, GS forecasts and GS Fair Value price estimates
System-tray alerts available for both Market Blog and Economic Events
Streaming Spot Prices
Dealable spot bid/offer prices (double click to trade).
See the depth of GS liquidity with the ladder view.
Streaming NDF prices for standard tenors and broken dates in many of the liquid NDFs. Others are priced via RFQ.
Heat indicates the strength or weakness of a currency pair from the previous day's close.
Sparkline indicates the cross' momentum in the intraday range. The arrow reveals price action in the past minute while an additional ten minute indicator will appear as a red or green tail adjacent to the arrow. A pulsing arrow indicates sharp moves.
Spot workspace shows two-way dynamic pricing and market color at a glance.
FX Options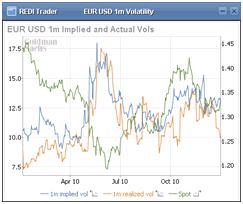 FX Options
Available options strategies include vanilla call/put, calendar spread, uneven spread, strangle, straddle and risk reversal.
Provides dealable and indicative pricing for all option strategies.
Set a spot reference and exchange spot or forward delta.
Save favorite strategies or trade ideas for quick retrieval in ScratchPad.
Options workspace shows volatilities, strikes and risk reversals for various crosses, tenors and deltas.
Chart implied versus realized volatilities and spot prices for various crosses and tenors.
FX Order Management
Available order types include, stop, limit, contingent, OCO, if-done-OCO and recurring orders.
Leave mid-market limit orders between the GS Bid/Offer spread.
Quick order entry fly-outs directly from streaming spot tile.
One click cancels of all Buys/Sells or simply all orders.
Quick order ticket with streaming rates.
Customizable default expiration times for all orders.
Trailing stops and additional algorithmic order strategies coming soon.
FX Algorithmic Execution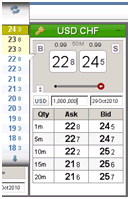 Quick Entry
Key Level Selector

Streaming tiles
Time weighted average price (TWAP) is currently available.
Customize many of the input parameters.
Suspend/Resume algorithmic executions at any time.
Post-Trade Report provided upon order completion.
Key Level Selector
Quick order entry fly-out and ladder
Streaming spot/forward tiles
For more information about Goldman Sachs Electronic Trading, please contact us.